Unica Llanes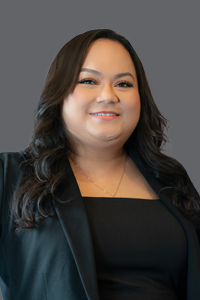 Managing Attorney - Family Unit
Ms. Llanes is the Managing Attorney of the Family Immigration Department of the Law Offices of Jacob Sapochnick and an active member of the American Immigration Lawyers Association (AILA). She was born in Lipa City, Batangas, Philippines and immigrated with her family to the US when she was 1 year old. She attended the University of CA, Berkeley and graduated with highest honors. During her time at the University of CA, Hastings College of the Law, she was awarded Best Moot Court Oral Advocate and the CALI & Witkin Award for Academic Excellence in Legal Research and Writing. She speaks English and Tagalog.
Prior to joining the Law Offices of Jacob Sapochnick, Ms. Llanes worked with the UC Hastings Immigrants' Rights Clinic and was a law clerk for the East Bay Sanctuary Covenant and the First District Appellate Project.
As an attorney, she represents clients in all immigration practice areas including family-based immigrant visas, employment-based immigrant visas, non-immigrant visas, waivers, and complex motions to reopen. She oversees family-based cases for the firm including adjustment of status, I-130 consular processing, K1 fiancé visa, I-751 removal of conditions, N400 naturalization, VAWA, and DACA. She prepares and represents clients in all USCIS interviews (AOS, I-751, N400, fraud interviews) and consulate interviews. Ms. Llanes handles employment-based visas such as TN, L1A, L1B, O1, NIW, H1B, EB1C, and PERM. She successfully represents clients in all phases of complex waiver cases (I-601, I-601A, I-212, I-612, I-212d3). She also advises and counsels clients on the intersection of criminal law and immigration law (crimmigration) as it relates to the effect of one's criminal history on green card applications, naturalization, and general admissibility to the US.
LanguagesA Little Bit More About Unica Llanes
What is your position with the Law Offices of Jacob J. Sapochnick?
Managing Attorney
How did you end up working for the Law Firm?
I was searching for a law firm dedicated to serving the immigrant community. I interviewed with Jacob and have been here ever since.
What does your job entail?
I work in all immigration practice areas and represent clients in family-based & employment-based immigrant visas, non-immigrant visas, motions, and waivers. I train, supervise, and oversee the work of paralegals and case managers.
What is the most difficult part of your job?
Current immigration processing delays and seeing families endure unnecessarily long separation times.
What is the best part of your job?
Making a difference in people's lives, reuniting families, and winning cases for clients who were told their cases were impossible to win.
Where are you originally from?
I am originally from the Philippines and relocated to San Diego, CA when I was 1 year old. I attended college and law school in the Bay Area before moving back to San Diego to be close to my family.
What do you like to do in your spare time?
Read, meditate, watch movies, and spend time with family and friends.
Do you have any unusual hobbies?
Collecting plants.
Can you tell us about your family, pet, etc.?.
I grew up in large immigrant family. My mother was one of ten siblings, and most of them were able to immigrate to the US thanks to my uncle's service with the US Navy. Growing up in a working-class immigrant family, my mother always instilled in me the importance of humility, hard work, and perseverance. By helping other immigrants achieve their dreams and reunite their families, I know I am honoring my mother's memory.
Do you have a favorite saying or quote and if so, what is it and why?
"Pursue your dreams with fire in your eyes and kindness in your heart."
A favorite book or movie you would like to share?
Favorite books: America is in the Heart by Carlos Bulosan; Jane Eyre by Charlotte Bronte.
Favorite movies: The Sandlot; The Goonies.