Shelly San Martin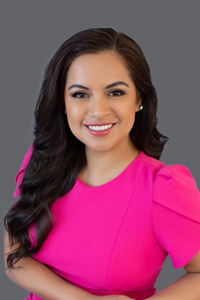 Associate Attorney
Shelly San Martin is a Associate Attorney at Sapochnick Law Firm in the Connecticut office. Shelly earned a Juris Doctorate from Florida Coastal School of Law and was admitted into the Florida Bar in September 2018. She received a Bachelor of Arts degree in Political Science from Ashford University. Shelly served in the United States Air Force for seven years, and she accredits the Air Force for teaching her how to have integrity in her work and to pay attention to detail.
Shelly represents clients in removal proceedings fighting against deportations of family. She practices all areas of immigration law: employment based, family based, investment-based and non-immigrant visas. Shelly also presents clients in complex I751 Interview and complex marriage-based cases where fraud is being suspected.
A Little Bit More About Shelly San Martin
What is your position with the Law Offices of Jacob J. Sapochnick?
Associate Attorney
How did you end up working for the Law Firm?
I met Jacob through… you guessed it Tiktok!
What does your job entail?
I represent clients in all aspects of their immigration case. I specifically assist individuals facing deportations by representing them before an immigration Judge or the BIA. I also counsel individuals in federal litigation.
What is the most difficult part of your job?
Due to the unprecedent delays and constant change in immigration laws, I find it difficult to explain to clients the immigration systems.
What is the best part of your job?
Working with people and being with some people during the most difficult, scary part of their lives.
Where are you originally from?
East Hartford Connecticut
What do you like to do in your spare time?
I like to spend time with my family
Do you have any unusual hobbies?
I wouldn't say unusual, but I do like to do yoga and anything outside.
Can you tell us about your family, pet, etc.?
My parents are immigrants from Peru. I am the oldest of 3, my brother is the middle child and I have a younger sister. I also have a nephew who calls me "titi" and melts my heart. I hope to add a fury family member soon!
Do you have a favorite saying or quote and if so, what is it and why?
Putting positivity in the world will come back to you.
A favorite book or movie you would like to share?
I am a huge Harry Potter fan.