Sarah Alessio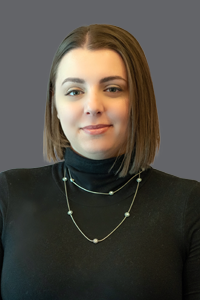 Case Manager
Sarah is a born and raised San Diegan. She received her bachelor's degree from the University of California, Davis in Psychology before pursuing further education at Cuyamaca College in their ABA-approved Paralegal Studies program. Shortly after graduating from UC Davis, Sarah began working at the Law Offices of Jacob J. Sapochnick as their Legal Administrative Assistant and eventually transitioned into the role of Case Manager.
LanguagesA Little Bit More About Sarah Alessio
What is your position with the Law Offices of Jacob J. Sapochnick?
Case Manager
How did you end up working for the Law Firm?
I first began working in the firm as the office's Legal Administrative Assistant. I was thrilled to have the opportunity to gain experience working in a law office. After working at the Law Offices of Jacob Sapochnick for several months, I was offered the position of Case Manager and joined the family team.
What does your job entail?
As a member of the office's family team, I work with clients to assist them with their family related immigration needs. My duties include client communication via phone or email, filling out immigration forms on behalf of our clients, gathering documents from clients as supporting evidence for their cases, and writing briefs or statements.
What is the most difficult part of your job?
Working on cases can be a very gratifying and rewarding experience. However, at times the challenges and delays posed by the current state of our immigration system can cause feelings of frustration.
What is the best part of your job?
The best part of my job is knowing that the work I am doing is serving others and helping to bring families together.
Where are you originally from?
I was born and raised in San Diego, California. I briefly lived in Davis, California while completing my undergraduate degree at the University of California, Davis before returning to San Diego.
What do you like to do in your spare time?
>In my free time, I enjoy outdoor activities like hiking and going to the beach, reading, listening to music, and spending time with friends and family.
Do you have any unusual hobbies?
I enjoy collecting rocks and shells from the beach.
Can you tell us about your family, pet, etc.?
I come from a family of immigrants on both my mother and father's sides of the family. My great grandparents came to the United States as immigrants from Italy and it inspired me to pursue working with an immigration law firm.
Do you have a favorite saying or quote and if so, what is it and why?
"We have hope. Hope that things will get better. And they will."
A favorite book or movie you would like to share?
My favorite book is The Book Thief by Markus Zusak.