Marie Puertollano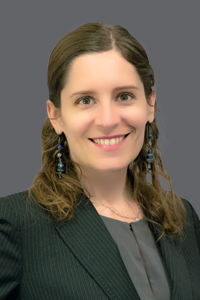 Managing Attorney – Business Unit
One of only 24 Board Certified Immigration Attorneys in San Diego county by the State Bar of California, Ms. Puertollano is the Managing Associate Attorney of the Business Immigration Department of the Law Offices of Jacob Sapochnick. Born and raised in France, she earned two Master's Degrees in Law; one in France in Public Law in Paris, and one in the United States in Comparative Law (LL.M) in San Diego.
Languages

As attorney, she represents clients in removal before the Court of Appeals for the Ninth Circuit, the BIA and immigration court. Since 2012, she practices all areas of immigration law: family based, employment-based, and investment-based immigrant and non-immigrant visas and has hundreds of cases approved from more than 40 different countries.
More precisely, she files family-based (marriage, fiancé, I-751), employment-based (H-1B, H-3, TN, R-1, L-1, PERM, EB1C), and investment-based petitions (E-2), as well as naturalization, DACA, F-1 reinstatement, visas based on extraordinary abilities (O-1, NIW and EB-1A), athlete visas (P-1), and I-360 Victim of Violence Visas (VAWA). She prepares clients for their marriage first or second (Stokes) interviews, I-751 and citizenship interviews and attend the interview with them. She also deals with complex motions to reopen as well as I-601A, 601, and 212 waivers.
In her free time, she enjoys exercising and spending time with her family and friends. She is a motivational speaker as well as an active member of the American Immigration Lawyers Association (AILA). She also volunteers her time at church.
A Little Bit More About Marie Puertollano
What is your position with the Law Offices of Jacob J. Sapochnick?
Managing Attorney
How did you end up working for the Law Firm?
I started as a law clerk in 2012 and I have been there since.
What does your job entail?
I represent clients in court including the Court of Appeals for the Ninth Circuit, and at the USCIS field office. I also file family based, employment-based, and investment-based immigrant and non-immigrant visas. As manager, I assign deadlines, train new employees and supervise cases of the Business Immigration Department; all while building a positive team spirit.
What is the most difficult part of your job?
The most difficult part is when cases are denied by USCIS. It is completely heartbreaking to see the distress of the clients who are losing their legal status.
What is the best part of your job?
Building a relationship with the clients, getting to know them, care for them and get their case approved.
Where are you originally from?
France.
What do you like to do in your spare time?
Giving public speeches (I am a motivational speaker), spinning class, swimming, traveling, reading (in French), hosting parties, gardening, playing board games, going on adventures with my children, and meditating. I also try to make my French recipes taste the same with American ingredients (and fail miserably).
Do you have any unusual hobbies?
Playing board games and chess.
Can you tell us about your family, pet, etc.?
I have been married to the most amazing man since October 2009 and we have two children.
Do you have a favorite saying or quote and if so, what is it and why?
"Treat others as you want them to treat you". When I interact with somebody, I imagine myself in his/her shoes. It helps me to be kinder and more compassionate.
A favorite book or movie you would like to share?
The Bible, especially the New Testament. This book contains a lot of wisdom.