Marie Puertollano
Associate Attorney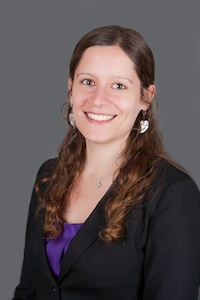 Marie Puertollano was born and raised in France. She earned two Master Degrees in Law; one in France in Public Law and one in the United States in Comparative Law (LL.M). She is fluent in French, English and Spanish.
While being a social worker in Gainesville, GA, Marie developed a passion for the protection of immigrants' rights. She attended California Western School of law with the sole purpose of becoming an immigration lawyer. Marie worked with an organization helping battered women to obtain a visa then for an organization helping detained and non-detained people seeking cancellation of removal. She has been with the Law Offices of Jacob J. Sapochnick since March 2012.
In her free time, she enjoys swimming, biking, and dancing. She regularly serves food to the homeless and she is a motivational speaker. She also loves spending time with her husband and her new born son.
---
A little bit more about Marie Puertollano
What is your position with the Law Offices of Jacob J. Sapochnick?
Attorney at Law
How did you end up working for the Law Firm?
I started as an intern in March 2012. Jacob offered to hire me in June 2012 and I gladly accepted.
What does your job entail?
I file different applications with USCIS (H1-B, I-751 waivers, religious worker visas, asylum, I-601A waivers, F-1 reinstatement, B-2 tourist visitor, B-1 business visitor, H-3 trainee, I-360 abuse spouse, etc..). I prepare the clients for their marriage, I-751 and citizenship interviews and then attend the interview with them. I visit people applying for asylum in jail. l answer the legal questions that the paralegals, legal assistants of our office may have.
What is the most difficult part of your job?
The most difficult part is when cases are denied by USCIS. It is completely heartbreaking to see the distress of the clients who are losing their legal status.
What is the best part of your job?
Building a relationship with the clients, getting to know them and care for them and get their case approved.
Where are you originally from?
France
What do you like to do in your spare time?
Giving public speeches (I am a motivational speaker), lap swimming, hosting parties, reading, playing with my baby.
Do you have any unusual hobbies?
Playing "Settlers of Catan" (a board game)
Can you tell us about your family, pet, etc.?
I have been married to the most amazing man since 2009. Our first born, a baby boy, was born in 2013.
Do you have a favorite saying or quote and if so, what is it and why?
"Treat others as you want them to treat you". When I interact with somebody, I imagine myself in his/her shoes. It helps me to be more kind and compassionate.
A favorite book or movie you would like to share?
The Bible, especially the New Testament. This book contains a lot of wisdom.