Kristin Berg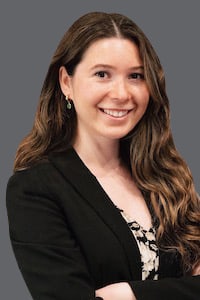 Case Manager
Ms. Berg is a case manager in the business department. She is from Minneapolis and holds a bachelor's degree from the University of Minnesota in Political Science and International Studies with concentrations in Human Rights and the Islamic World. She is proficient in Arabic (MSA, Jordanian dialect) and Spanish.
For as long as she can remember, Ms. Berg was passionate about language, diplomacy, and helping others. Before moving to San Diego, she worked at the UN Relief and Works Agency for Palestinian Refugees while studying Arabic in Amman, Jordan. Additionally, she enjoys volunteering to assist people experiencing homelessness and with Habitat for Humanity.
At home, she has a pet frog and a cat who often comes to the office during the week, earning the nickname of the "office pet". In her free time, she enjoys anything outdoors such as sailing or hiking, along with traveling, music and cinema.
LanguagesA Little Bit More About Kristin Berg
What is your position with the Law Offices of Jacob J. Sapochnick?
Case Manager
How did you end up working for the Law Firm?
I moved from Minnesota and interviewed a week later!
What does your job entail?
I work on both business and family cases. I love the variety of my caseload because no day is the same. You can find me writing briefs, communicating with clients, contacting embassies or congressional representatives, doing case research, and putting together applications.
What is the most difficult part of your job?
Every client matters to our office so it can be difficult to ensure that each person knows they are valued and prioritized while we work hard to submit strong cases.
What is the best part of your job?
Connecting with clients and forming a relationship. It is extremely meaningful to help people navigate the immigration system and change their lives for the better.
Where are you originally from?
Minneapolis, Minnesota
What do you like to do in your spare time?
I enjoy going to music concerts and playing piano. I will travel or camp anywhere. My most recent hobby is learning embroidery.
Do you have any unusual hobbies?
I grew up sailing and continue to find any opportunity to be on the water
Can you tell us about your family, pet, etc.?
My boyfriend and I have been together for 6 years. He was stationed in San Diego for the Navy. Together, we have a pet frog named Frankie and a cat named Tiller (Tilly).
Do you have a favorite saying or quote and if so, what is it and why?
One of my favorite poems is "I Will Not Die an Unlived Life" by Dawna Markova. It's about living life purposefully and with passion.
A favorite book or movie you would like to share?
For movies – anything by the Cohen brothers (Fargo, The Big Lebowski) or with Francis McDormand. For books – a popular choice but I grew up in nature so I resonated strongly with "Where the Crawdads Sing"