Kely Martell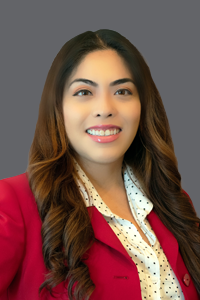 Case Manager
Ms. Kely Martell is a Case Manager at the Law Offices of Jacob J. Sapochnick in the business department. She immigrated from Peru at a young age and grew up in the Bay Area of California. She earned her Associates in Social Sciences and Humanities along with an Associates in Liberal Arts/Sciences from De Anza College. She received her Bachelor's degree in Sociology from San Jose University, and her ABA Paralegal Certificate from the University of San Diego Law School. Her journey in the field of immigration law began as a translator at Asian Law Alliance in the Bay Area. She later became a Business Immigration Analyst for the immigration law firm Fragomen, Del Rey, Bernsen & Loewy. She decided to further her experience by joining the Law Offices of Jacob J. Sapochnick in May 2021, where she works as a case manager handling family and business-related immigration matters.
Ms. Kely Martell is also a member of the San Diego Paralegal Association and of the National Association of Legal Assistants (NALA). In her free time, she partakes in mentoring undocumented students through Undocumented Professionals. Assisting with calls for Detention Center Hotline in San Diego has become part of her community involvement as well and translating for Immigrant Justice Project for people in holding at detention centers.
LanguagesA Little Bit More About Kely Martell
What is your position with the Law Offices of Jacob J. Sapochnick?
Paralegal/ Case Manager
How did you end up working for the Law Firm?
I relocated to San Diego from San Jose after graduating from the San Jose State University to attend a Paralegal Program at USD Law School. My background experience has primarily been in immigration law with a focus on business cases. Due to my focus on immigration law, the Law Office of Jacob Sapochnick was a great fit.
What does your job entail?
I work primarily with business cases and occasionally with family cases. My job requires constant communication with clients through phone calls or emails. I also go through the intake process with each client to collect information and request specific documentation depending on the visa category.
What is the most difficult part of your job?
The most difficult part is the current immigrational delays and knowing my client's needs for their case to be expedited which can be due to families being separated for a prolonged period of time, work, or financial instability. Another difficult aspect of the job is having clients not lose faith in their case if circumstances are challenging.
What is the best part of your job?
To me, the best part of my job is interacting with clients and learning more about them. Every case is different, and it can require adjusting to each client's needs. The best part will always be seeing reunifications of families.
Where are you originally from?
I am originally from Lima, Peru, and lived there till the age of 10 years old. I relocated to San Jose, California, and called the Bay Area home till early 2021.
What do you like to do in your spare time?
I like paddleboarding, hiking, drawing, dancing, doing pro bono work for communities in need, attending San Diego Paralegal Association events/forums, and learning about other sectors of law such as real estate law and criminal.
Do you have any unusual hobbies?
An unusual hobby would be cooking when stressed.
Can you tell us about your family, pet, etc.?
I grew up in a household with military and law enforcement officers. My dad was in the air force for over 15 years and my grandfather was a law enforcement officer for most of his life till he retired. I learned a lot about discipline from them and that it's important to always adjust to new environments. My mother was a tour guide for Machu Picchu during her youth and now she works as a Caregiver for a family. My grandmother, Maria raised me for part of my life, and she is the most compassionate person out there. I have one younger brother that recently graduated with a degree in communication. My family adopted an adorable puppy named Teddy, the loves to wear sweaters.
Do you have a favorite saying or quote and if so, what is it and why?
"What's done in the dark will come to light"
A favorite book or movie you would like to share?
My favorite movie is Just Mercy with Michael B. Jordan