Karine Werneck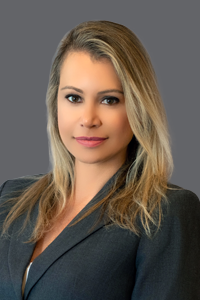 Paralegal
Ms. Karine Werneck is a paralegal at the Law Offices of Jacob J. Sapocknick. She is a Brazilian native from Rio de Janeiro with over 15 years of experience working in the legal field in the United States and Brazil. Ms. Werneck received her law degree from the Pontific Catholic University Law School, Brazil and is licensed to practice law in Brazil. She worked as a criminal trial attorney in Brazil for several years and performed work for the prosecutor's office. After settling in California, she received her ABA-Approved Paralegal Certificate from the University of California, San Diego. She is an active member of the San Diego Paralegal Association and California Alliance of Paralegal Associations. In her free time, you can find her hiking, snorkeling, or feeding sharks.
LanguagesA Little Bit More About Karine Werneck
What is your position with the Law Offices of Jacob J. Sapochnick?
ABA-Approved Certified Paralegal and Case Manager
How did you end up working for the Law Firm?
I was looking for a paralegal position in an immigration law firm, and I knew Jacob from his YouTube videos. I had experience in Immigration Law, and when I saw that Jacob Sapochnick Law Firm was looking for a Paralegal, I applied immediately. My background experience has primarily been in immigration law with a focus on family cases.
What does your job entail?
I work primarily with family cases. My job requires constant communication with clients through phone calls and emails. I prepare applications and collect information from the clients. I am also the bridge between the attorneys and clients. I make sure the client is well informed about his case and the attorney knows all the details about the client's case. I try to execute my work with perfection. As an immigrant myself, I understand the client's needs because I've been there.
What is the best part of your job?
For me, the best part of my job is interacting with people from different nationalities.
Where are you originally from?
I am originally from Rio de Janeiro, Brazil. I moved to San Diego in 2016 to attend the University of California San Diego (UCSD).
What do you like to do in your spare time?
I love sports. I'm a scuba diver and I also like snorkeling, free dive, skiing, and hiking. I love specially shark dives.
Do you have any unusual hobbies?
I feed sharks in my spare time!
Do you have a favorite saying or quote and if so, what is it and why?
"It is not titles that honor men, but men that honor titles."
Niccolò Machiavelli
A favorite book or movie you would like to share?
I love books about kings and queens. My favorites are about the house of Tudor.