Jenna Tarantino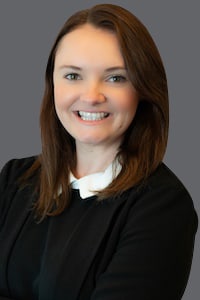 Administrative Manager
As a local San Diegan, Jenna graduated from the University of San Diego with a bachelor's degree in International Relations. She has a strong passion for politics and foreign affairs and was excited by the opportunity to work with an international clientele in the critical field of immigration. Jenna joined the firm in July of 2020 as a legal assistant and now oversees the Administrative Unit. With a strong customer service background, Jenna enjoys assisting clients in achieving their goals and making connections with people from around the world.
LanguagesA Little Bit More About Jenna Tarantino
What is your position with the Law Offices of Jacob J. Sapochnick?
Administrative Manager
How did you end up working for the Law Firm?
I was hired upon graduating from college as the legal administrative assistant and moved on from there.
What does your job entail?
In my current role, I oversee the administrative and billing units at the firm. I communicate with both clients and attorney's daily to ensure the firm is functioning efficiently to achieve our clients' goals.
What is the most difficult part of your job?
The most difficult aspect of my role is the level of multitasking required each day. However, it keeps the job exciting!
What is the best part of your job?
The best part of the job is meeting incredible people from around the world and seeing them achieve their goals of immigrating to the U.S. I also get to learn a lot about different cultures and perspectives.
Where are you originally from?
North County, San Diego!
What do you like to do in your spare time?
In my spare time I enjoy going to the beach, cooking new recipes, reading and exercising.
Do you have any unusual hobbies?
I enjoy listening to true crime podcasts which may seem unusual to some!
Can you tell us about your family, pet, etc.?
I live in North County with my boyfriend and our cat, Scout. We enjoy staying local on the weekends - bike riding and dining at our favorite restaurants.
Do you have a favorite saying or quote and if so, what is it and why?
"I get up every morning determined to both change the world and have one hell of a good time. Sometimes this makes planning my day difficult." -E.B. White
A favorite book or movie you would like to share?
My favorite book is To Kill a Mockingbird and my favorite movie is You've Got Mail.