Andrea Cristerna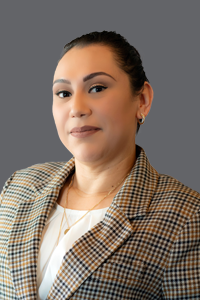 Case Manager
Andrea Cristerna is a Case Manager in the family department. She was born in National City. She comes from immigrant parents' her father was born in Mazatlán, Sinaloa and her mother was born in Tijuana, Baja California. Her parents immigrated to the U.S. in the 80's. Andrea is passionate about helping people coming to America and starting a new future for their family making the American Dream come true.
LanguagesA Little Bit More About Andrea Cristerna
What is your position with the Law Offices of Jacob J. Sapochnick?
Paralegal/ Case Manager
How did you end up working for the Law Firm?
I got hired during the pandemic, so I got the full experience of interviewing virtually. It was quite an experience since that was our new lifestyle. After my virtual interview I got an in-person interview and was hired May 2021, so I am new to the Law office of Jacob Sapochnick.
What does your job entail?
I work primarily in the Family Department. My work consists of preparing cases for people that are going to have an interview in a U.S. consulate/ Embassy abroad. Once their case is approved, they can enter the U.S with their approved Immigrant Visa at a port of entry.
What is the most difficult part of your job?
The most difficult part of my job is the long processing times since the pandemic started processing times became longer than usual. Specially, in the cases that I work on it is difficult because in some cases the petitioner is in the U.S and the beneficiary is outside of the U.S., and they are separated while they wait for their interview.
What is the best part of your job?
The best part of my job is when the case gets approved because someone that maybe has never been here in the U.S. gets to come for the first time. That is what makes me happy to see families together because in the Abroad Consular Process sometimes families are not living together during this long process.
Where are you originally from?
National City.
What do you like to do in your spare time?
Going shopping with my kids and going to the gym.
Do you have any unusual hobbies?
No, I don't but I would like to hike.
Can you tell us about your family, pet, etc.?
I have 3 kids, my daughter Melissa who is 16, my son Juan Carlos who is 14 years old, and the little one Julian who is 4 years old.
Do you have a favorite saying or quote and if so, what is it and why?
My best quote is "Yesterday is history, tomorrow is a mystery, today is a gift of God, which is why we call it the present." ― Bill Keane
For me the meaning to this quote is that we can always start a new day and a new begging it is a blessing to be able to start a new day.
A favorite book or movie you would like to share?
One of my best movies is COCO this movie makes me remember the people that are no longer with me. It brings back good memories that I lived with my loved ones that are no longer here on earth. Best movie!!