Lupe Lopez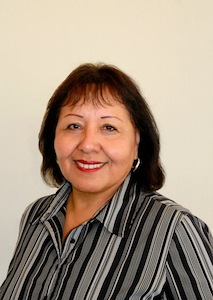 Paralegal / Operations Manager
As Operations Manager, Ms. Lopez is charged with the task of bringing up our level of customer service through the improvement of systems and operations.
Ms. Lopez worked over 28 years for a large corporation in a variety of capacities, giving her excellent experience in the field of sales, marketing, and customer service. In addition to her people skills, Ms. Lopez has technical and mechanical skills having worked as an engineer in telecommunications. She has supervised, managed, and trained personnel at various levels and has served on the speaker's bureau for her employer and community organizations.
In her role as Operations Manager, Ms. Lopez is required to help train, organize, and improve systems while ensuring that all employees provide legal services in a way that will build customer confidence and satisfaction. Ms. Lopez has almost 12 years of experience in the field of immigration legal services and continues to take on cases requiring her experience as a paralegal. She is experienced in working with business, investment, and family immigration specializing in waivers of inadmissibility and VAWA cases. Ms. Lopez's many years of business experience is of benefit to our corporate and investment clients. Also, an asset to our clients, is her compassion and understanding for families experiencing extreme hardship due to their inadmissibility and family separation. Ms. Lopez has worked with customers and clients as a Legal Case Analyst, Customer Service Manager, Community Key Contact Manager, as well as other positions that give her a world view. Ms. Lopez has a B.S. in Human Resource Management and a Certificate in Labor Relations. Ms. Lopez is also in the process of being certified as a Dale Carnegie Course Instructor.
---
A Little Bit More About Lupe Lopez
What is your position with the Law Offices of Jacob J. Sapochnick?
Operations Manager
How did you end up working for the Law Firm?
I first met Jacob in 2003 while working with another attorney and friend of his. In 2012, I decided to go out on my own to provide immigration case management services for various immigration attorneys. Jacob offered to use my services. Eventually, after time, Jacob asked that I come on board as the operations manager. I happy for the opportunity to work with such a great group of people.
What does your job entail?
As Operations Manager, my main responsibility is to build operational systems that help us to better serve our clients while maintaining organization and accountability. Because business growth has been brisk, I also assist with client consultations, personnel supervision, and training issues.
What is the most difficult part of your job?
Time management. Meeting with clients and speaking with them over the phone to determine their needs consumes most of the day. Time for catching up with emails, client follow-up, case work, and employee training issues becomes increasingly difficult. Learning to manage my time is essential.
What is the best part of your job?
For me, the best part of my job is working with great people and meeting great people. We have so many interesting people working with us - employees and clients both. Giving the best and getting the best out of people is always rewarding.
Where are you originally from?
I am very happy to be a native Californian. I feel very lucky to have been born and raised here.
What do you like to do in your spare time?
My favorite activity is working as an trainer/instructor for the Dale Carnegie Institute. I enjoy working with people from all levels of the spectrum. I especially enjoy seeing them grow their self-confidence while building skills they believed they would never have. It's an honor to be doing this.
Do you have any unusual hobbies?
I enjoy woodworking and playing my guitar; when I can. Most of all, I love going to the movies, but I rarely get to do it.
Can you tell us about your family, pet, etc.?
The first dog I have ever really loved is my Belgium German Shepherd, Indio. He's just beautiful and loving. I feel guilty that I don't get to spend more time with him.
Do you have a favorite saying or quote and if so, what is it and why?
Many years ago, two weeks before graduating from junior high school, Mrs. A, my homeroom teacher gave us an inspiring speech that I'm sure is remembered by all of us in the room. She ended with a quote from Winston Churchill, "Never give in, never, never, never, in anything great or small, large or petty, never give in except to convictions of honor and good sense. Never yield to force. Never yield to the apparently overwhelming might of the enemy." Mrs. A had us put these words to memory so that we could always remember to stay strong in time of turmoil. It works for me.
A favorite book or movie you would like to share?
I have many favorite books, but I have to say that one of the all-time best is Dale Carnegie's "How to win friends and Influence People." Warren Buffet says it changed his life. With lots of practice, it will change mine.