Maimiti Elkain
Paralegal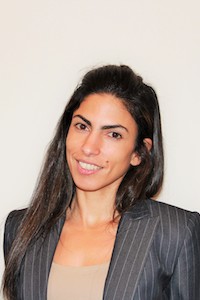 Originally from French Polynesia, Ms. Elkain secured a law degree in France before becoming a resident of California. She attended CWSL where she graduated from the LL.M. program, therefore gaining dual training in Civil and Common Laws. During her career, Ms. Elkain had the opportunity to work in the public sector for the government of French Polynesia as well as for private companies in France and the U.S. Her career took a different turn when she discovered her strong interest in U.S. Immigration Law. As an immigrant herself and coming from a family of immigrants, Ms. Elain understands the concerns immigrants have to face and the impact on their lives.
Maya joined the Law Offices of Jacob J. Sapochnick in 2014 as an intern, and she is now a paralegal helping attorneys in applications for H-1B visas and other business immigration matters, as well as provisional waivers of unlawful presence. Each day in the office has been a fulfilling experience for Ms. Elkain, where she has acquired the knowledge and has learnt how to become a better advocate for immigrant rights.
Outside of work, Ms. Elkain enjoys outdoor activities, hiking climbing biking. She also loves yoga and cooking.
Languages
---
A Little Bit More About Maimiti Elkain
What is your position with the Law Offices of Jacob J. Sapochnick?
I am a paralegal.
How did you end up working for the Law Firm?
I attended the same law school as most of the attorneys in the firm so when I heard that Mr. Sapochnick was hiring, I was very excited to apply. I started as an intern and I am now working as a paralegal.
What does your job entail?
I assist attorneys in various type of visas from application to remove conditions on residency to H-1B, I-601 A waivers, etc. I am passionate about all aspects of immigration practice.
What is the most difficult part of your job?
It is difficult when I feel unable to help a client achieve his dream and when a case is not approved, it is devastating.
What is the best part of your job?
Having the opportunity to make a difference and actually help our clients succeed in their immigration process. It is the most rewarding feeling.
Where are you originally from?
I grew up in Tahiti, French Polynesia. My Dad is Spanish naturalized French and my Mom is French /Israeli.
What do you like to do in your spare time?
I like to exercise, go to the theater and talk to my family on skype.
Do you have any unusual hobbies?
I enjoy skydiving. I wish I could become a licensed skydiver.
Do you have a favorite saying or quote and if so, what is it and why?
"How wonderful is it that nobody need wait a single moment before starting to improve the world" Anne Frank.
Can you tell us about your family, pets, etc.?
My Dad is the most amazing man I have ever met, he is an example of positivism, kindness, wisdom and honesty. He taught me great values and integrity.
Favorite book or movie?
La vie est belle, Roberto Benini.