Catherine Nieto
Legal Assistant/Client Relations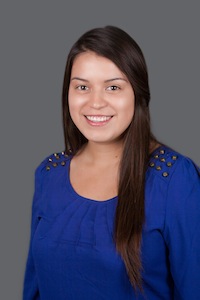 Catherine Nieto is the Legal Assistant/Client Relations, at the Law Offices of Jacob J. Sapochnick. She was born and raised in San Diego, CA. Ms. Nieto's family immigrated to the U.S. many years ago from Mexico. Ms. Nieto is fluent in English and Spanish. Knowledge of the foreign language helps Ms. Nieto in her work as many of the firm's clients were born in a foreign country.
In 2011, Ms. Nieto graduated from San Diego High school, and then attended Southwestern Community College for 2 years. She became a member of the firm in March of 2012. Her responsibilities include assisting attorneys with the immigration cases, such as Marriage Adjustments, Naturalization, and Removal proceedings. Ms. Nieto analyzes case documents, fills out forms, and maintains contacts with clients. Ms. Nieto also does a part as a client relations where she focuses on answering telephones as well as greeting customers.
Ms. Nieto enjoys dancing, live music, reading, and cooking. She attended the dance school of San Diego Civic Youth Ballet.
---
A little bit more about Catherine Nieto
What is your position with the Law Offices of Jacob J. Sapochnick?
Client Relations/ Legal Assistant
How did you end up working for the Law Firm?
Client Referral
I was always interested in Immigration Law, one of my family members is a Canadian citizen and Jacob assisted her with her visa and I got to meet Jacob and got hired.
What does your job entail?
Client Relations:
Answering phones
Communicating with clients with there needs
Taking payments, making agreements, sending fax
Entering or changing data
Making appointments
Legal Assistant:
Draft Legal documents
meeting with clients
communicate with clients of missing information/documents about there case
What is the best part of your job?
Meeting and helping people from all over the world
Where are you originally from?
Born in San Diego, CA but Mexican Roots
What do you like to do in your spare time?
I love dancing, singing and spending time with my dog coco and family
Do you have any unusual hobbies?
Sanding any old wood furniture at home or my parents or friends
Can you tell us about your family, pet, etc.?
My parents came from Mexico.
Mother: Sonora, Mexico
Dad: Michoacán, Mexico
My mom was 5 years old and my dad was 19 years old.
I have 4 sisters and 1 brother.
We are very family oriented.
Do you have a favorite saying or quote and if so, what is it and why?
"The mystery of life isn't a problem to solve, but a reality to experience"
A favorite book or move you would like to share?
Dune Chronicles #1